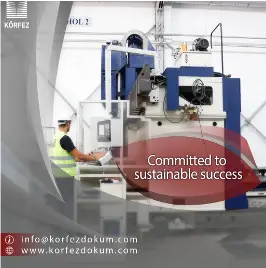 Committed to sustainable success
KORFEZ aspires to generate high-quality and efficient production, customer satisfaction, a reduction in environmental impact, and protection of the natural environment, and to instill these values at every level of the organization. It believes it can achieve long-term growth by continuously monitoring technological changes in an environmentally friendly setting.
We conduct joint studies on the axis of sustainability in terms of cost, shipment, and quality, and we comply with the applicable conditions of the Quality Management System, in order to correctly analyze our customers' expectations and needs, to produce appropriate solutions to ensure customer satisfaction, and to increase final customer satisfaction with a strong team comprised of our employees and suppliers. By emphasizing on lean production, we ensure employee engagement and generate high-impact client solutions in an environmentally responsible setting. All research is conducted while adhering to the principles of resource conservation and environmental stewardship.
Visit www.korfezdokum.com for detailed information about our casting solutions for the cement and mining industry.
#sustainability #yourfoundrypartner