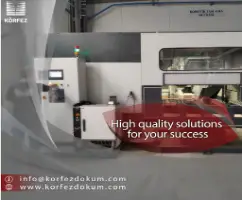 High quality solutions for your success
Every day, KORFEZ's flexibility, dynamism, and overall productivity are all growing as a direct result of our implementation of the lean manufacturing process and the internalization of the 5S philosophy.
The fact that we can maintain such long-term relationships with our customers is evidence that we have a young and dedicated team comprised of highly skilled managers and engineers who provide prompt responses to the needs of our customers.
Visit www.korfezdokum.com for innovative solutions for the cement and mining industry.
#productivity #leanmanufacturing #yourfoundrypartner